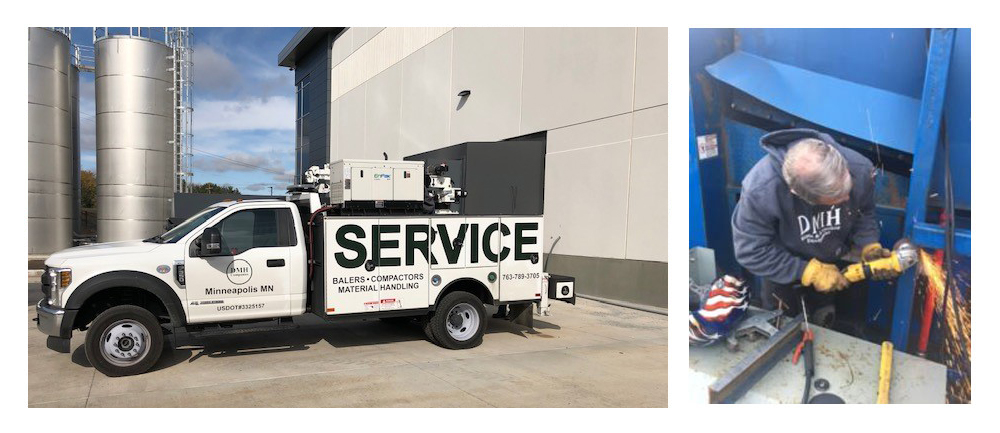 DMH understands the importance of minimizing lost production time when it comes to your recycling processing equipment. We are fully equipped for service and can provide a representative to fulfill all of your service needs. We also offer planned maintenance programs based upon your volume and the materials you process. We encourage you to contact us for a customized planned maintenance program.
Most repair services including hydraulic, electrical and manufacturer parts on all styles of waste and recycling equipment.
Preventative maintenance including oil changes, lubrication and component adjustments to ensure your waste and recycling equipment performs when you need it to.
Sales of parts to most manufacturers of waste and recycling equipment(many in stock)
Sales of baling wire and twine in most sizes (standard sizes in stock)
Equipment Refurbishment
We apply the same rigorous standards to our refurbished Balers and Compactor as we do to brand new ones to ensure they achieve the highest level of quality and performance.
Tested: Every refurbished machine goes through a rigorous testing process. If replacement parts are required, only new parts are used.
Warrantied: Refurbished balers and compactors come with a warranty as standard.
Custom Fabrications Include:
Walk on Deck
Full Enclosure- Walk on Deck and Drive on Deck
Double and Triple Full Enclosures
Side and Rear Feed Chutes
Cart Dumpers- Toters to 2 Yard Carts
Conveyor Feeds- Photo Eye & Auto Start Options
DMH Companies Custom Projects & Installations
DMH Hydraulic Compactor Installations
Waste and Recycling Compactors for all applications. DMH will custom build your enclosure to fit your needs. Check out some of the past projects!
DMH Auger Compactor Installations
Full Dock Enclosures
Custom Tippers
Drive On Deck
Side Load with Pallet Shelf
Custom Triple Enclosure
2- 3 Yard Stationary Compactors and 15HP Auger Compactor