Marathon Equipment Company is known throughout the world as a leading manufacturer of onsite waste balers and compactors for recycling. Through innovative products, industry expertise, and superior customer service, Marathon is the partner of choice for businesses and municipalities who need to quickly and efficiently process solid waste and recyclables.
Marathon RJ-250SC YD Self-Contained Compactor:
RamJet units are state-of-the-art in roll-off self-contained compactors, featuring large feed openings, and expanded container storage capacity. They are designed to optimize safety for workers, store and transport your waste, prevent contamination of public areas in accordance with public health department requirements, improve working conditions for your employees, and reduce disposal costs.
The RJ-250SC compactor can be customized with a variety of loading arrangements to suit your specific needs.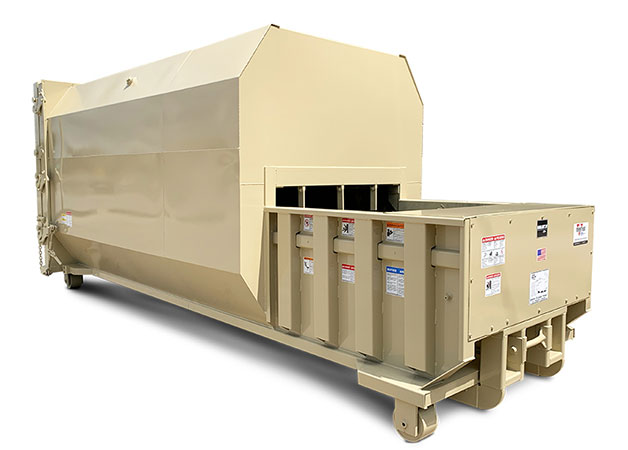 RJ-250SC FEATURES
Great for waste with high liquid content
Qwik Clean® Tank
Full Door Seal With P-Seal
CYCON Life-Xtender™ Cyclic Control System
Customizable For Your Application
Exclusive 41″ x 58″ (1041 mm x 1473 mm) feed opening to handle large, bulky items
Continuous feeding capability — even while the compactor is operating
Adaptable to special loading systems such as large-capacity hoppers, security chutes, or total enclosures
Odor and pest control from the Marathon Ozone Odor Control option
Easy loading from either ground or dock level
Up to 24 tons (21,772 kg) of crushing force to reduce refuse to a fraction of its former size, saving valuable space and reducing landfill trips
Fire hose connection provided on each unit
Factory testing to ensure leak-proof construction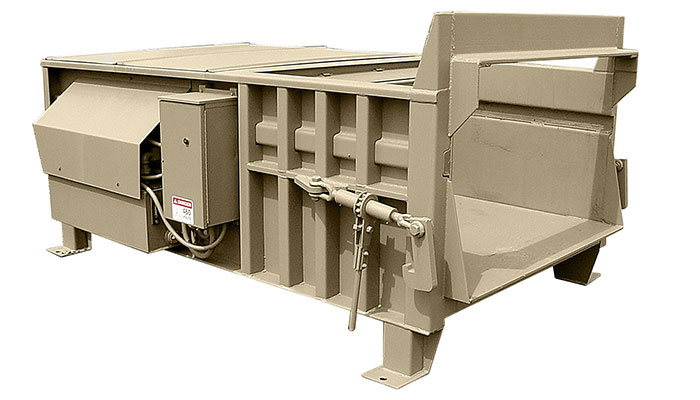 Marathon RJ-225HD STATIONARY COMPACTOR
The RamJet® RJ-225HD is specifically designed for tough waste-disposal applications. Heavy duty features such as 1⁄2″ (12.7 mm) steel plate charge box floor over four 4″ (102 mm) steel channels; 1⁄2″ (12.7 mm) ram face plate backed with 10″ (254 mm) channels that incorporate T-1 placed in high-stress areas; 3⁄8″ (9.52 mm) ram top supported by eight heavy duty formed cross members; and heavily reinforced charge box sides.
The RJ-225HD is ideally suited for industrial applications such as the disposal of skids and cartons and recycling OCC (old cardboard containers), paper, and similar materials. Electrical components, including the control box assembly, are UL® and CUL® listed. The 40 1⁄2″ (1029 mm) x 60″ (1524 mm) charge box is 33″ (838 mm) deep to make disposal fast and easy.
Marathon Front Load Compactor :
The Marathon® Vert-I-Pack™ (VIP) vertical compactors are ideal for applications where space for a compaction system is limited, or where roll-off collection service is not available. This unit is designed to handle dry or wet waste and is perfect for shopping plazas, restaurants, cafeterias, fast food locations, hospitals, nursing homes, schools, and much more.
VERT-I-PACK™ COMPACTOR FEATURES
Use for front, side, or rear-feed applications
Adjustable to accommodate a 4, 6 or 8 cubic-yard container
Low-Profile feed heights
Rigid anchoring platform
Triple interlock system
Available from 3 to 8 cubic-yard capacities
Marathon Mini Mac Apartment Compactor :
With hand-feed hoppers, chute systems, or through-the-wall installations, these powerful yet compact units are perfect for apartments, hotels, office buildings, and other high-rise facilities. The new Mini-M.A.C.® – Marathon® Apartment Compactor offers an even smaller compactor for applications where space is limited. We took our standard RJ-1835 and used crossed-cylinder technology to shorten the unit.
FEATURES:
Remote power unit
Convenient, single-side ratchet
CYCON Life-Xtender® Cyclic Control System offers reliable, solid-state circuitry, eliminating pressure and limit switches
Push button controls are mounted in the panel box face
Hopper with access door and interlock for hand-feed or chute-feed applications
Photoelectric cycle control
Full container light
UL® Listed
Single-phase power units available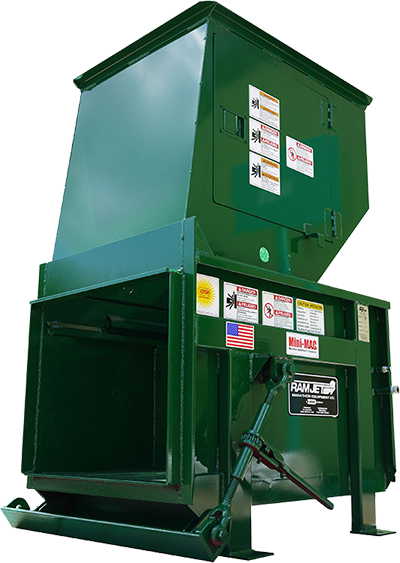 Marathon 60″ Vertical Baler:
Marathon's Heavy Duty Vertical Balers can also be equipped with optional features that add even more efficiency and ease of use. An automatic bale ejector that activates when the bale door is opened is available. Wire guides eliminate the need to go behind the baler for a complete front tie-off system.
An optional "bale-made" light notifies the operator when it's time to eject the bale, and a lockable electrical disconnect can be added for local lock-out/tag-out.
Available Models: V-6030HD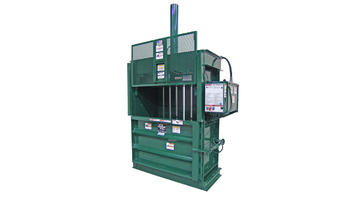 Auger Compactor
 The AST-220 Stationary Auger Compactor is specifically designed for superior compaction and lower maintenance. The advantages include continuous forward auger blade movement that yields excellent payloads and superior compaction, while reducing or even eliminating springback.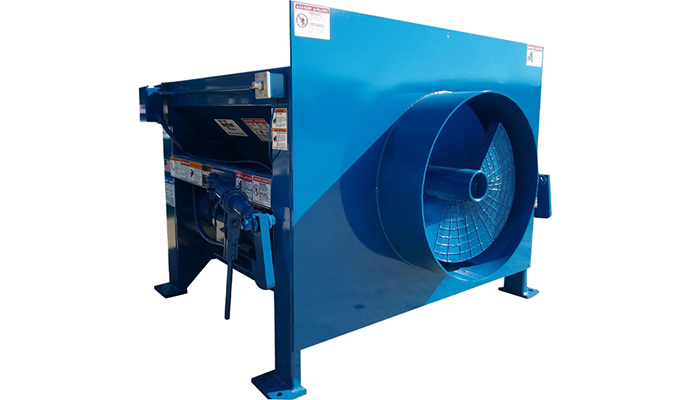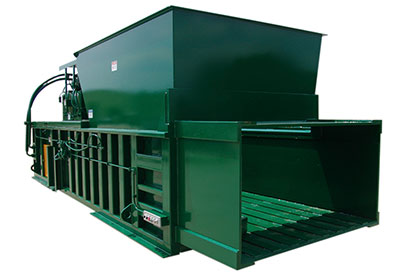 Transfer Compactor
Marathon M-Series Compactors are built tough for the high demands of transfer stations or heavy industrial applications. These compactors can be mounted on a stand to compact directly into the transfer trailer. Extended snouts can also be added to aid in clean breakaways. The RAWHIDE® is a special option that can be applied to the M-Series 1050 and 1475 Compactors. It has a 48" ram penetration that is especially beneficial for packing out transfer trailers for a clean break-a-way.
Horizontal Baler
Closed-End Horizontal Balers are ideal for multi-material processing. The ram packs the material in the compaction chamber and the bale is ejected through the end. The gate operates hydraulically. Closed-End Horizontal Balers are mid-sized, closed-end balers that processes a wide variety of material and can produce up to 20 tons of OCC in a typical day's shift. Several models are available with bale sizes from 30" x 42" x 72" to 48" x 42" x 72", charge box opening lengths from 30" to 50", motors with 20 and 30 horsepower, and 7-inch and 8-inch cylinder bores.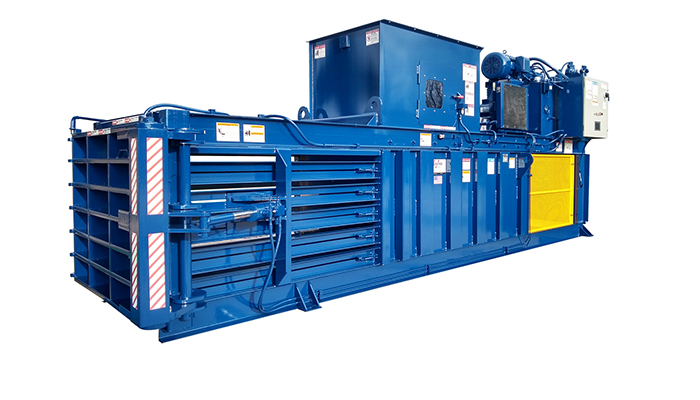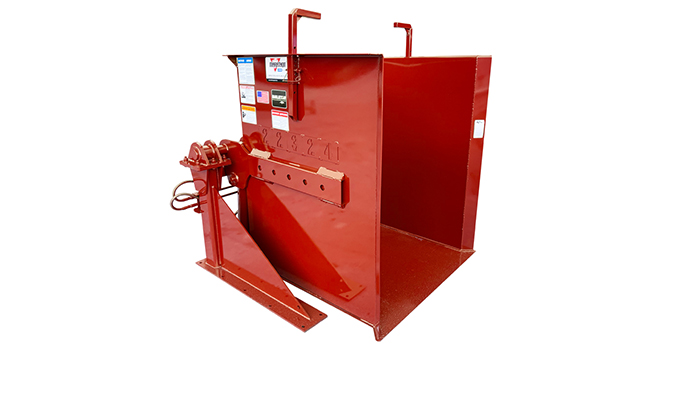 Cart Dumpers
The Marathon® Cart Dumpers can extend the benefits of compaction to all areas of your operation while minimizing equipment investments. Standard cart dumpers are designed to handle 2 and 4-cubic-yard "trainable" steel containers and most commercial containers.