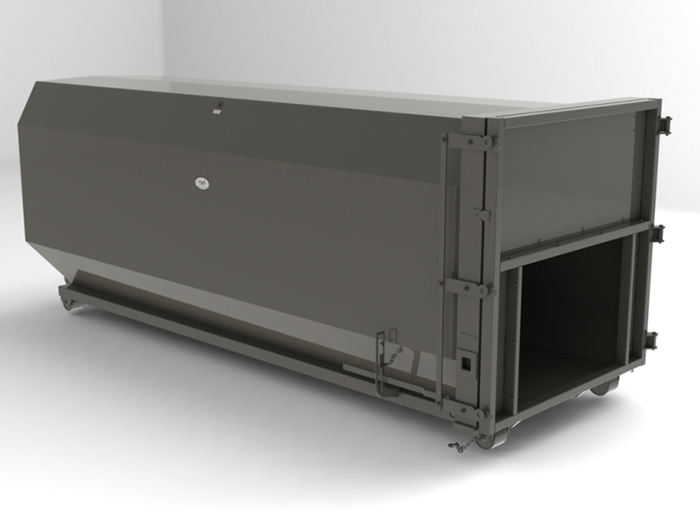 Compaction Receivers
Floor, front, and door were specifically designed to withstand abuse and ensure strength and longevity.
Floor and container sides are constructed out of 7 gauge steel plate back with 3-inch (76mm) structural steel channel 8 5/8-inch (219mm) diameter ground rollers.
Longitudinal sills made of 2-inch (51mm) by 6-inch (152mm) structural steel tubing.
The door is reinforced with 3-inch (76mm) structural steel channels, deep box sections of 7 gauge steel plate, and 3/4-inch (19mm) by 4-inch (102mm) bar stock hinges.
Hinges, guide rollers, and ground rollers are equipped with grease fittings.
Understructures available to fit most roll-off hoists.
46 3/8-inch (1178mm) high by 64-inch (1626mm) wide standard door opening (other sizes optional).
Auger Container
Our Roll-Off and Front Load Compactions Bins are designed for long life and ease of use. In addition to our standard lineup we can build custom bins to fit any need.
Auger Container Spec Sheet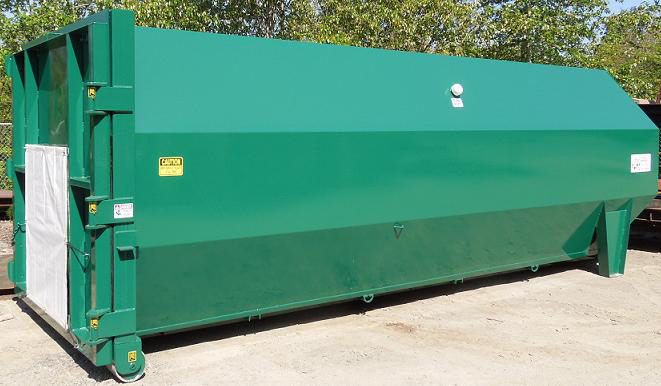 Standard Features Include:
Heavy Duty Octagon Construction
Canvas Hole Cover
Two 8 5/8" Ground Rollers
Two Steel Legs at Front
Triple Door Latch System
Customer Specified Understructure
Optional Features Include:
100% Liquid Tight Door
High Slip Interior Coating
Lexan Inspection Windows
Fire Hose Ports
4 Wheels-No Legs
Custom Understructure
Island Guides And Stops
Channel Guides
Bin Heat Systems
Lexan Inspection Windows
Hinged Metal Auger Hole Cover with Seal
Custom Paint Colors
Painted Bin Interiors
Bin Hole Diaphragm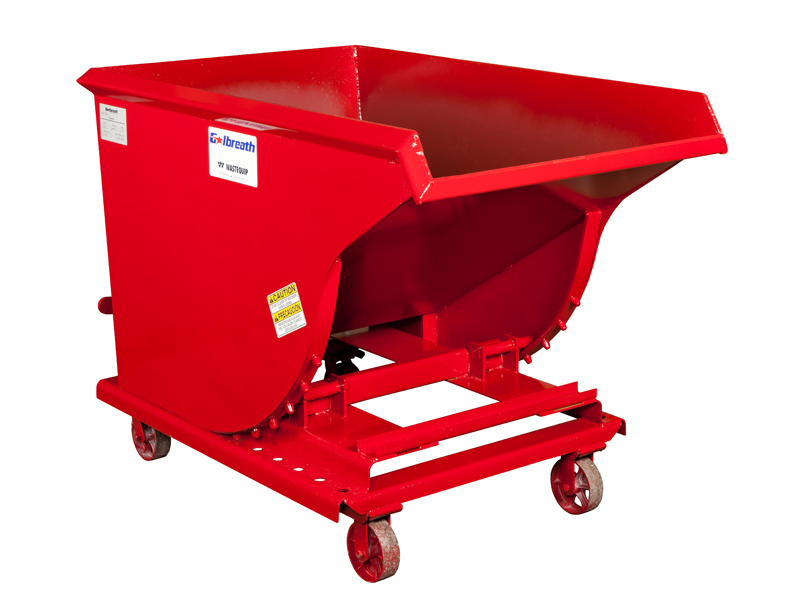 Self Dumping Hoppers
Heavy duty self-dumping hoppers are designed for fork lift handling of materials; particularly for demanding applications such as commercial construction, machine shops, fabrication, in-process material handling, sorting and storing operations, materials recycling, and scrap collection for metal, glass, stone and more. The 7-gauge steel body features a channel for additional support on the hopper body and an angle-reinforced formed steel base with 1" plate rocker stops. Rocker allows the hopper to roll forward and backward for easier dumping with the pull of a handle. Rocker stops lock the hopper in place for safety.
Available in 1/8, 1/4, 3/8, 1/2, 3/4, 1, and 1-1/2 cubic yard capacities.
Apartment Compaction Containers
2 Yard Front and Rear Load Models, Other Sizes Available, Built to Customer Specifications, 10-Gauge Body and Rails, Reinforced Around Compactor Opening, Lock Down Steel Lids, Left or Right-Hand Opening, 6″ x 2″ Poly Casters, Anti-Corrosion Paint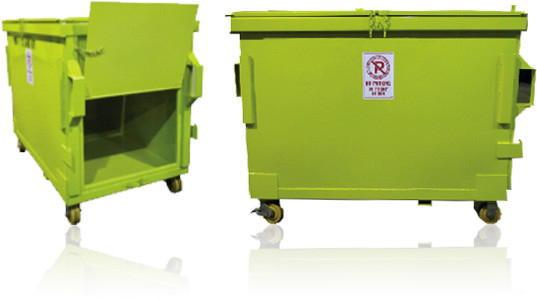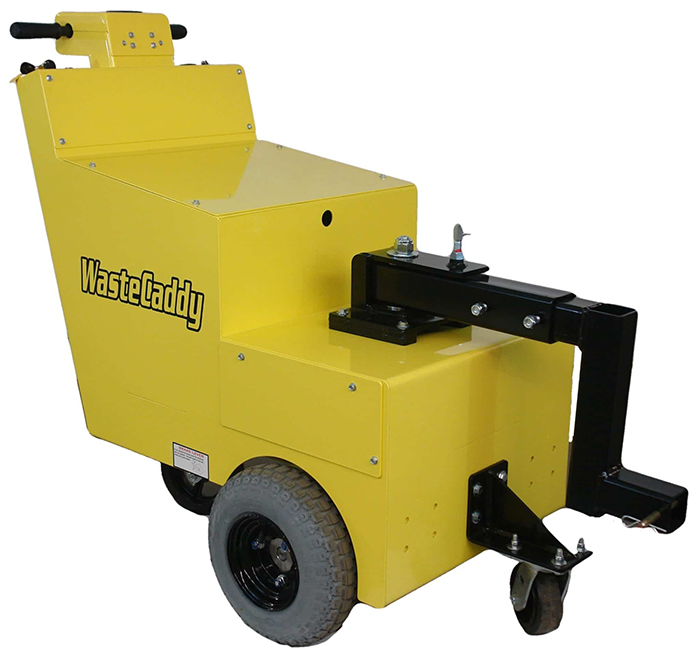 WasteCaddy Dumpster Mover
With a Wastecaddy dumpster mover, the work of moving a dumpster or waste container, a task that once required three or four people, can be done easily by one person with a Wastecaddy dumpster mover. That one person does not have to worry about strain or overexertion. Our Waste Container Puller is engineered to assist an employee transferring a dumpster from an underground parking lot to the street level, transport a waste bin from a compactor room to a trash pick up site, or move a dumpster on an incline through snow, slush, or ice.
Many of our dumpster cart moving situations are on flat surfaces, but workers using our waste container puller may need to pull a waste bin or other large waste container up an incline. Safety is paramount in all situations where workers need to transport heavy carts and dumpster, but even more so if there is an incline involved. Employees that have to manually push a heavy trash or recycling container up large inclines to the street may become injured due to overexertion, strains, or slips and falls.
You can prevent this when you invest in a Wastecaddy battery powered waste mover.
Our WasteCaddys have a powerful 36-volt motor that can pull, push, and maneuver dumpsters from 500 lbs to 10,000 lbs.